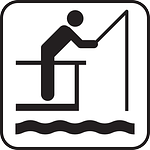 Welcome to Top Fishing Sites, your resource for finding quality fishing websites. Finding a good fishing website on the style of fishing your looking for can be difficult, even with the help of search engines. The purpose of this site is to help fishermen find quality fishing websites and quality fishing websites find fishermen. The categories on this site are constantly updated and will provide you with the best fishing websites online. Browse through the featured sites below or select a category from the drop down menu on the right to find the site your looking for. And if you don't see a site that you think should be listed on this site let us know.
Featured Sites
This site is all about bass fishing lures made for catching largemouth bass and smallmouth bass. Very informative site that covers all the better bass fishing lures that every angler should carry in their tackle box.
Bass fishing tackle website with a wide selection of equipment. The site's neat and organized design makes shopping and finding what your looking for very easy. They carry a wide variety of bass tackle from jigs to jitterbugs, and even offer a military discount.
The Bass College is a great resource for bass fisherman. They offer contests for free tackle, video tackle tips, forums with live help, and full length articles by professional anglers and guides. They have over 1000 bass fishing instructional videos for free, and be sure to visit the forums to talk to professional anglers, guides, and tournament anglers.
Award winning website and great customer service. A great resource for fly fishing information and videos. They cover and sell a large range of fishing flies and fly materials for trout, salmon, bass, grayling and other species, all delivered world-wide.
If you've ever thought about trying to fly fish for bass check out this site. This is a fly fishing website that strictly focuses on catching bass with with a fly rod. This covers everything from gear selection to tying flies. There are some great fly tying videos too.
The Bass Lures Blog is a bass fishing website with information for the beginner or professional. You will find informational articles on lures, product reviews, how-to's and guest posts from anglers from all over.
The Outdoorsmen's Voice is a community of members who love to hunt and fish. There are multiple forums on the site that cover all different aspects of the outdoors. Visit today and join a discussion on a variety of fishing topics.
Provides unbiased user reviews of the latest fishfinder models. Also, lists price comparisons and spec comparisons. Make sure to visit this site before you purchase your next fishfinder.