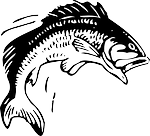 This is by far the most visited page on Top Fishing Sites. Bass fishing is a multi-billion dollar industry and sport that has anglers in constant pursuit of new tips and information. Improving your skills in the sport of bass fishing is essential to becoming a better bass fisherman. The web is loaded with this information but finding the better bass sites can be difficult. The list of websites below is constantly updated and include only quality websites with valuable information. They include everything from technique to equipment. Whether your fishing for largemouth or smallmouth bass, these sites will provide you with the information your looking for.
Top Bass Sites
We provide you with the knowledge of anglers that have been fishing for decades that you can take out on the water and put in to practice. Fisherman Advisor is a resource that will help you become a better angler through education and advice.
The Bass Lures Blog is a bass fishing website with information for the beginner or professional. You will find informational articles on lures, product reviews, how-to's and guest posts from anglers from all over.
Probably the most overall authoritative bass fishing website online. It has information on just about everything you want to know about about bass fishing. Includes articles, tips, tactics, photos and links about bass fishing.
Bass Master is the largest bass fishing organization in the world. Join with over 500,000 anglers who share your passion for bass fishing. As a member, you will learn all the latest tips and techniques on how to catch more and bigger bass.
Ultimate Bass is a great looking and up to date bass fishing website. It includes hundreds of bass fishing reports, bass fishing tips and articles, and bass fishing links, and a bass fishing club message board for anglers to share their information.
This site is dedicated to smallmouth bass. There is a ton of information on smallmouth bass fishing. The contents include smallmouth biology, articles, tackle recommendations, tips, and links.
Independent organization that brings you the latest in tournament results, fishing techniques, regional angler profiles, tips from the pros, and the latest news and events regarding the next generation of bass fishing. On this site you'll be the first to know about the hottest new trends and techniques originating on the west coast and abroad as they develop.
Bass fishing information and fishing reports for New England and the entire Northeast region of the United States. A great resource for bass fishing articles, largemouth and smallmouth bass photos, bass fishing forums and more. Sign up for a forum account to share fishing tips and ask questions. The more we share, the more we learn.
Smallmouth Angler is built on a passion for smallmouth bass fishing. As well as being a great source of smallie information, Smallmouth Angler is a family-run business. Tim Holschlag and his wife Lyn are committed to providing excellent products and services.