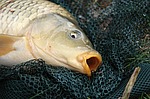 Carp fishing aims to catch the freshwater fish that has been historically referred to as the "queen of rivers". But rivers are not the only place where good carp fishing can take place. As you will learn from the websites below, carp fishing can be done in rivers that connect with oceans, or a variety of standard rivers. Carp fishing has grown in the United States with fly fishing, bow fishing, and spear fishing. There are special methods of fishing designed for different types of carp, particularly the silver carp, and the websites listed will give you some inside information on how to properly hook these fish. They are great resources that cover all the basics of carp fishing that will get you ready to catch your first carp or further develop your skills.
Top Carp Sites
Avid Carp is all about breaking new boundaries in carp tackle – setting new precedents to design the right gear for the modern, discerning carp angler. Don't expect to see carp fishing tackle that you've already seen before, because that's not what this site is all about. They're re-thinking tackle.
For the dedicated carp angler. This website is based on the magazine Advanced Carp Fishing. The site packed with information to keep your carp fishing progressing. Visit the site or subscribe to the magazine and advance your skills with every issue.
ACE (Advanced Carp Equipment) is a market-leading manufacturer of quality carp fishing tackle, carp fishing accessories, carp leads and carp rig- making tools. All products within the ACE range have been designed, developed and tested by some of the UK's top Specimen Carp Anglers. Terry Hearn, Iain Macmillan, Max Cottis and many more high-profile anglers.
A community dedicated to the sport of catch and release carp fishing. Become a member and have access to information on carp fishing tournaments and forums where members share information to become better carp anglers.
Austin Carp Angler (ACA) was founded for the simple purpose of trying to spread the word about this world class sport fish called carp. Carp, pound for pound, is the hardest freshwater fighting fish. Anglers around the world are addicted to the sweet siren of their alarms going off as a large carp runs with their gear. We wish to spread that joy to you.
The goal of carp fishing tactics is to provide detailed information on new rigs, bait, methods, techniques and ideas on anything that will help you catch more carp. Whether you're a beginner or an advanced carp angler, you will find useful information on this site.
Carp.com is a fishing social community where you can share and talk about all aspects of carp fishing. The forums are very active so expect up to date discussions and information on all things related to carp.
This site is outdated and unorganized but there is some great content on there if you do some digging. Includes very detailed information on different methods of carp fishing relevant to beginners or experts.