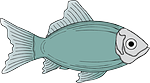 Ask 10 anglers which fish was their first catch, and you're almost bound to hear "crappie" more than once. That's because these small bass relatives are incredibly abundant in the United States and Canada, and are a good deal easier to catch than many other species out there. A crappie might not have the trophy fish potential of certain other fish families, but if you're looking to learn how to fish (or to teach someone the joys of the sport), then crappie can be a great starter species. The websites listed below are the best crappie fishing resources on the web, and can make it twice as easy for you to get the successful start that you are looking for.
Top Crappie Sites
Direct your browser to this site and the first thing you'll see is a banner billing it as "America's Crappie Fishing Community." That more or less sums up what makes this site the definitive online source for crappie fishing. Daily articles offer great photos, fishing stories, and recipes, and the forum is a fun place to go to talk about a wide range of fishing topics. Whether you're looking for inspiration, advice, or just a little bit of fun, Crappie.com is the right place to find it.
"The Home of the American Crappie Association," the logo for this website announces, immediately marking itself as an important online destination for crappie anglers everywhere. CrappieUSA.com is definitely the site to go to if you want to join the ACA—which is open to anyone, from pure hobbyist anglers to tournament professionals—but it's also a great source of tournament information and results. There's also a forum section, where anglers can talk about tournaments, build fishing teams, or ask questions about upcoming events. For the competitive crappie angler, there's arguably no website out there better than this one.
Not to be confused with CrappieUSA.com, CrappieFishingUSA.com is less about tournament information and ACA membership, and more about tips, techniques, tricks, and advice. The site calls itself "the most comprehensive crappie fishing site on the web," and while its rudimentary design may lead you to believe that such a claim is bogus, the site actually makes good on its promise in terms of content. The site's "Articles & Tips" section is perfect for beginners, with tutorials on everything from ice fishing to fileting a crappie, and everyone will love trying out the many delicious recipes on the "Cookbook" page.
Like CrappieFishingUSA.com, this site doesn't have the most stunning design we've ever seen. Where CrappieCrazy.com does excel, though, is in photos. CrazyCrappie encourages their followers to send in pictures of their biggest crappie catches, and some of the photos are truly impressive. Head to the site, click the "Big Crappie" tab, and you'll get plenty of inspiration to try a bit harder on your next fishing outing.
Crappie Masters is Bass Pro Shops' crappie-focused tournament trail. If you are looking to follow the world's best crappie anglers, this site is the perfect place to start, giving you full angler profiles and information on where to catch crappie tournament action on TV. If you are looking to try your hand at competitive crappie fishing, you can also sign up for a membership with Bass Pro Shops and Crappie Masters right online.
As the website for a crappie fishing guide on Cedar Creek Lake, BigCrappie.com is the perfect site if you are looking to plan a fishing trip to Texas, but it's also more than that. Indeed, the guys at BigCrappie have put together numerous video tutorials that cover everything from fishing crappie under bridges to trolling. The videos make this a great source for anyone, whether you are planning a fishing trip or not.