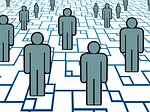 Just as Facebook and Twitter bring people with common interests together, websites like GetReeled.com and Fishidy.com do the same for those who love to fish. There are a number of quality sites that anglers can visit to connect with other lovers of the sport, learn more about hot spots around North America, or simply learn more about catching their favorite fish. The sites listed below are active communities of anglers that are sharing stories and information every day. Some are even map based and you can actually look over maps with hot spots marked by other anglers. The best part about joining one of these networks is you can find local information, which is often much more useful than the information you find in a magazine that is distributed nationally.
Top Fishing Social Networks
Find a fishing buddy in any geographic location to share in the costs of fishing. Host an outing and name your cost share. Find a host and be a fishing buddy guest. The site verifies identities, securely handles all money exchanged, and enables buddy feedback. Log in to create your profile and find a new buddy today. Save more. Learn more. Fish more.
Fishidy is a unique social networking website for fisherman in that it is entirely map-based. The site is free to join and unlocks valuable insights into all kinds of valuable fishing tips. Anglers who join will have access to detailed maps of over 8,000 different waterways all over the United States. You can mark your various catches as well as any hot spots directly on your map. Much like other social networks, you can connect with friends and meet new ones who have similar interests. Fishidy also has a premium paid membership feature as well that gives users access to even more information about local fishing spots around the nation.
US Fish Finder allows you to explore, share, and experience the world of fishing using a social network of "state" specific websites. By having a website for each state, it allows us to focus on the "local" fisherman with details unknown to larger sites. The site features a unique interactive map to plot trips, hotspots, photos, and much more! Best of all it is 100% Free.
Archer & Angler is a site and community social network dedicated to fishing, hunting and archery enthusiasts. Our site offers Great Giveaways, message boards, live chat, topo mapping tool, classifieds, and much more.
With over 300,000 members, GetReeled.com is a great site to find other fishermen to connect with. Like Facebook and other social media websites, you can establish your own profile on GetReeled. The site claims to be North America's largest online fishing community. Search for other anglers in your area or connect with those in other areas where you may like to fish someday. You can post photos and videos of your latest catch, learn more about different species of fish, or visit the tackle shop for some new gear.