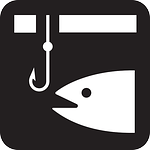 Ice fishing has evolved quite drastically over the years. The days of drilling one hole and sitting over it for the day are long gone. Today an ice fisherman can cover hundreds of holes without breaking a sweat because of the advanced equipment now available. There are many tools in an ice fisherman's arsenal and its important to know what they are and how to use them. Its also important to know the dangers associated with ice fishing and whether the ice is safe where you plan to fish. Engage with other anglers on the websites below and exchange information on current ice conditions. These websites are also great resources for information on everything ice fishing. You will learn everything from how to drill your hole to, more importantly, where to drill your hole.
Top Ice Fishing Sites
Since 1997, Ice Team has been providing its members with constant information on the latest in ice fishing strategies and equipment. This information comes from articles, videos, fishing reports, and e-chats. There is also an active forum where tons of ice fishing knowledge is shared amongst anglers.
Ice Fishing Today is an online television show. You can watch full episodes on the website and learn some great ice fishing tips and tactics. They cover a ton of ice fishing equipment and also have a great image gallery to browse through.
Nice looking ice fishing website with some good articles and up to date information. This website covers mostly the northeast but the information is universal. You'll find some good information, ice fishing tactics, and gear reviews.
A mass of ice fishing information. This website is loaded with useful articles that will definitely make you a better ice fisherman. They even feature a podcast where you will hear from industry professionals talk about new products and get insight into some of the best ice fishing the northeast has available.
In the early 1990s the Brainerd Jaycees had a desire to develop a signature project—a project that would rally members, raise money for local charities, and provide avenues for individual growth, personal development, and leadership. With the first ice fishing contest being held in January 1991, it is certain the founders never expected this event would become the world's largest ice fishing contest and put Brainerd, MN, on the map with a winter event that generates over $1-million in revenue for area businesses and over $150,000 for area charities annually.