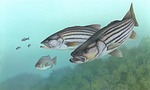 A complete online saltwater, striped bass and surf fishing community featuring 25 active fishing forums, technique and "how-to" articles, tides, tackle reviews and reports.
Nice looking website with forums and club listings in the North Eastern region of the US.
Resource for striped and hybrid striped bass including casting and trolling strategies, fishing locations, forum and chat room, weight calculation chart, and photos.
Mike is an season fisherman and provides quality striper fishing information. Website includes weekly updates with stories, photos and recipes from a surfcasting fisherman.
This striper fishing website contains a lot of useful information on tactics and lures for striped bass. Nice looking website with some good content.