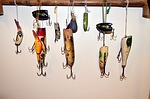 Fishing tackle is the equipment that you use when you are fishing. Almost anything that you use to fish can be blanketed under the term tackle, but the most common examples include hooks, rods, reels, lines, floats, baits, lures, sinkers, spears, traps, waders, nets, spears, and the tackle box in which to store your terms. The websites below are great resources for finding all of the tackle you will need for whatever form of fishing you want to try. You can use the websites below to narrow your search for fishing tackle based on the fishing technique you want to use, or the type of fish you are trying to catch. If you are interested in taking up fly fishing, for example, you can use the websites below to search for fly fishing tackle. Whether you are looking for tackle for recreational or commercial needs, you will find information on traps, nets, spears, boxes, rods, bait, bite indicators, reels, hooks, sinkers, lines, and more below.
Top Tackle Sites
Bass Pro Shops is America's leading outdoor retailer with stores across America and Canada. Every Bass Pro Shops store still offers an incredible array of fishing and boating equipment. They are also the premier shopping destination for hunting, camping, and outdoor cooking gear as well as outdoor footwear and nature-themed gifts. You will have a difficult time not finding what your looking for on their website.
Midwest Fishing Tackle was established in 2007 and provides custom made bass fishing jigs and jig heads. They also offer other tackle like soft plastic lures, hooks and sinkers. They have assorted jig colors but will custom make colors for orders on bass fishing jigs and jig heads.
Tackle Express has a wide variety of bass fishing products including Japanese lures and plastics. It's growing swimbait selection carries the newest and latest innovations. As always, they have free shipping with no minimumus. We know you're looking for a great shop and no shipping costs, great prices, and a killer selection, Tackle Express is here for you.
Award winning website and great customer service. A great site for fly fishing tackle. They offer a large range of fishing flies and fly materials for trout, salmon, bass, grayling and other species, all delivered world-wide.
Avid Carp is all about breaking new boundaries in carp tackle – setting new precedents to design the right gear for the modern, discerning carp angler. Don't expect to see carp fishing tackle that you've already seen before, because that's not what this site is all about. They're re-thinking tackle.
The TackleDirect's staff has been servicing fishing enthusiasts for 3 generations and over 40 years. With more than 9 thousand unique fishing products available through TackleDirect from top manufacturers, you can find exactly what you want, when you want it, 24 hours a day.
FishUSA is a world leading Internet retailer of sport fishing tackle and related products. They cater to anglers nationwide with products for the spectrum of species and fishing techniques, from bass to carp, from ice fishing to off-shore trolling, from fly fishing for small brook trout to surf fishing for stripers. They carry not only the popular products, but specialty and hard to find products, including products from abroad.
I don't think Amazon.com needs much of an introduction. Probably the most trusted e-commerce website online, Amazon is an excellent website for anything you need for any style of fishing.