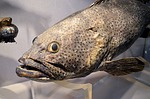 Museum grade replication of your trophy fish. Details like clear fins, realistic poses, each individual upper palate tooth molded in. Fish painted to your specs fro your photos.
A taxidermy website that sells replicas of your trophy catch that will last a lifetime. Low quality website but looks like high quality work.
Fish taxidermy is what we specialize in, whether it be fish replicas, reproductions of fish, or fish mounts. Daniel Blackstone of Daniel Blackstone Studio is an experienced professional fish taxidermist focusing on designing, and creating trophy fish mounts or any replica of fish.