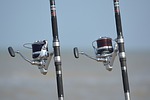 No one could have predicted that the 106 fishermen competing in Ray Scott's first tournament in 1967 would one day turn into a membership organization more than half a million strong. B.A.S.S., born and raised in Montgomery, Ala., was founded by Ray Scott with simple goals in mind: to create a credible and honorable tournament trail, to improve our environment by uniting and amplifying the voices of anglers and to secure a future for our youth. In the past four decades B.A.S.S. has met all these goals and more.
FLW is the premier tournament fishing organization that provides unparalleled fishing resources and entertainment to our anglers, sponsors, fans and host communities. Through a variety of platforms including tournaments, expos, international media and creative marketing strategies, FLW is committed to providing a lifestyle experience that is the best in fishing, on and off the water.
Bass Tournament Finder is the largest Online listing of Bass Tournaments. Events are listed by State & Region then by Month and finally by date. Listings are free. Use the SUBMIT LISTING button on the home page to add your events
The Suncoast Tarpon Roundup offers ten weeks of 24/7 tarpon fishing in and around St. Petersburg, FL and the surrounding area.  A non profit, family centric, tournament benefitting the Pediatric Cancer Foundation.