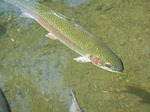 Bass might be the prime fishing targets for most rod-and-reel anglers, but for those who prefer the more traditional feel of fly fishing, trout take precedent. Whether you are a beginner looking to learn more about the differences between certain trout species, a novice searching for better fly patterns, or a seasoned veteran simply aiming to interact with other die-hard trout anglers, the web is flushed with trout fishing sites designed specifically for you. Read on to discover your new favorite website and to learn a bit more about trout fishing in the process!
Top Trout Sites
A prime resource for all trout anglers, tu.org is like two different trout fishing websites in one. On the one hand, Trout Underground is a nationwide organization that devotes itself to protecting fisheries in the United States. On the other hand, the site serves up rich and informative content, from fly pattern instructions to fishing reports and more. Add the fact that tu.org is simply an beautifully designed website, and there is no reason that it shouldn't be a top destination on your favorites bar.
Trout-fly-fishing.com may look rudimentary from a design perspective, especially when compared to a site like Trout Underground, but it absolutely triumphs in the content department. The site offers incredibly helpful tutorials on the basics of fly fishing, as well as guides on what gear to take out into the field.
Trout Nut doesn't see as many content updates as we would like these days, but it's still a great source, particularly for information about the things that trout eat. With an extensive library of information about various different flies (4,355 images of 1,021 subjects, according to the site), Trout Nut is the perfect place to learn about why fly patterns are an effective means for catching trout, and how to imitate insect activity to get fish hooked. There's also a forum, if you've been looking for a place to chat with other trout fishing fanatics online.
Situated at Henry's Fork, Idaho, one of the most world-renowned fly fishing spots on the planet, Trout Hunter is a guide company that has managed to become a great source of web knowledge as well. Henry's Fork is arguably the Holy Grail of all trout fishing experiences, and Trout Hunter will help you to plan a trip there, from choosing a person to show you the ropes to selecting the right time of year to go. From weekly fishing reports to a live webcam stream of the river, Trout Hunter will make you want to book a flight to Idaho to experience the Fork.
Trout Magnet is first and foremost an online trout fishing store, dedicated to selling designer lures, baits, rods, reels, and more. But Trout Magnet is also more than that, with an "Expert's Column" that repeatedly provides top-notch fishing advice, and a video training section where the visual learners among us can get step-by-step tutorials for new trout fishing techniques.
The Trout Zone, a blog run by writer and fishing guide David Knapp, is a passion project in every sense of the word. New content shows up every couple of days, and whether Knapp is sharing tips and tricks of the trade or providing detailed play-by-play accounts of his recent trout fishing adventures (along with gorgeous photos!), the content is always worth reading.