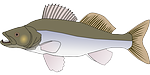 This website is a labor of love, to stay involved in the fishing tackle industry on a small personal level. Their main focus is providing fishing lure components to walleye fisherman who make their own live bait rigs and walleye spinners. They also supply lure making components for crappie and ice fishing.
An instructional walleye fishing website to teach recreational anglers the fine art of walleye-ing. It has all the basics.
This walleye fishing website has tons of information on walleyes. Not the nicest looking site but has good content for beginners and seasoned anglers alike.